Term:  January 1, 2016 - December 31, 2019
Mayor Higgins was first elected to City Council in 2002 and served for 2 1/2 terms. On June 27, 2011, he was appointed by City Council to be the Mayor of the City of Camas. Mayor Higgins was then elected to serve his first full-term as Mayor in November 2011. He is now serving his second term as Mayor.
Mayor Higgins has lived in Camas most of his life. He attended Lacamas Heights Elementary School, JDZ Middle School, and graduated from the old Camas High School. Upon graduation, he attended Florida College in Tampa, Florida. After receiving his AA degree he went to work. After a few years he met his wife, Dr. Allison Higgins, and decided to move back to Camas to have a family. They now have two beautiful girls. He is happy to be living in the town he grew up in and is hopeful his work for the City will help to preserve a quality of life in Camas that is second to none!
Mayor Higgins will be representing the City on the following committees and boards in 2016:
Georgia Pacific Mill Advisory Committee, alternate liaison
Sister City Committee, alternate liaison
Community Development Block Grant (CDBG)
Columbia River Economic Development Council (CREDC)
Camas Youth Advisory Council
Camas-Washougal Economic Development Association (CWEDA)
City/School Committee
Fire/Emergency Medical Services (EMS) Partnership Committee
Economic Development Strategy Committee for Economic Incentives
C-Tran Board of Directors, alternate liaison
Port of Camas-Washougal
Mayor's 2016 Volunteer Spirit Award Recipients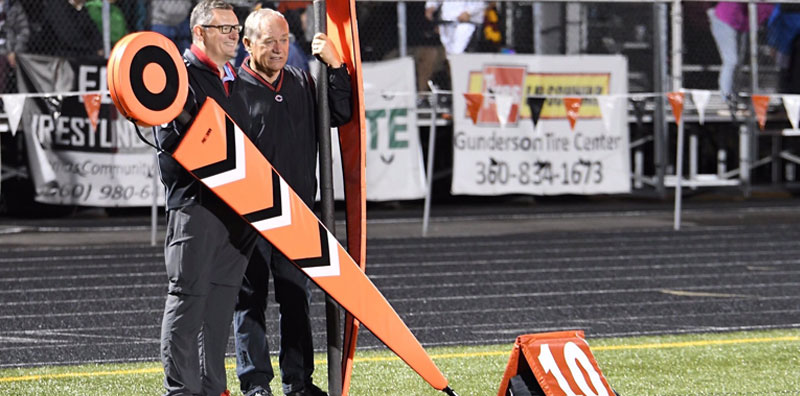 Camas High School Football Event
Mayor Higgins and Council Member Don Chaney