Maintenance includes storm line cleaning, and drainage system maintenance, and cleaning and repair of catch basins. Camas maintains more than 2,500 catch basins.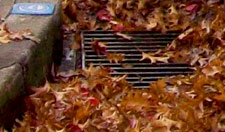 Autumn is the time of year when leaves fall, it rains and catch basins plug with leaves. If you see water pooling up around a plugged basin, and you can stand safely on the curb out of traffic, please clear the basin with a rake, broom or shovel. Do not sweep leaves into the street. Call (360) 817-1563 to report problems.

Staff Goals
Promote water quality by minimizing runoff of

pollutants into fish bearing waterways.

Promote water quality by sweeping all streets (approximately nine times every year).
Promote water quality by cleaning out all catch basins a minimum of once per year.

Report a Concern

The Stormwater Management Program responds to citizen's concerns about:
Spills that impact or threaten storm drains
Dry weather/non-storm flow in storm drains
Construction site-runoff
Runoff from industrial sites
Runoff from detailing operations

Call 360-817-1563 to report problems.