We invite you to review the documentation provided below to learn about the City's plans to improve the NW 6th Avenue and Norwood Street intersection by constructing a roundabout and landscaped gateway feature at the western entrance to the City of Camas.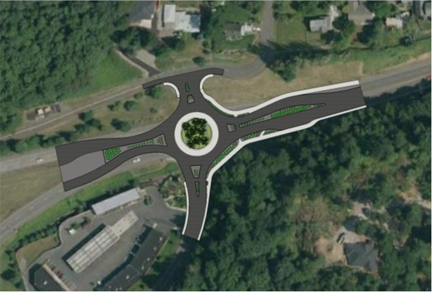 The following items were presented and made available for viewing during an informational Open House hosted by the City of Camas on Thursday, May 28, 2015, from 5:30 p.m. until 7:30 p.m. at the Camas Public Library:
PowerPoint Presentation: This presentation was developed by HDJ Design Group, PLLC, Project Consulting Engineer.
Roundabout Simulation:  

This video was provided by the Washington State Department of Transportation.  This simulation represents projected traffic flows in the evening "rush hour" in year 2035.
Modern Roundabouts – a Safer Choice:   

The U.S. Department of Transportation Federal Highway Administration developed this video.
Please browse this information and feel free to contact me with any questions or comments.
James E Carothers, P.E.
Engineering Manager