Camtown Youth Festival 2019
June 1, 2019
Each year on the 1st Saturday in June at Crown Park
Entertainment Schedule For Camtown Youth Festival 2019
Click the following links to the Camtown informational pages including this year's activities, voluteering, donating, and more.
About Us
Activities
Camtown Art Show
Entertainment
Food
Funding
Information Vendors
Kids Flea Market
Volunteering
Camas Parks and Recreation Events Coordinator Krista Bashaw wanted to create a summer festival that catered directly to local youth, so she went to the experts – kids. "I wanted to incorporate the students in the planning process because I thought it would be a good learning experience for them and for Camas. Our community youth have a lot to offer our city. This project has shown me – and others – even more how imaginative, intelligent, thoughtful and industrious our youth can be." Working alongside teacher Gail Welsh with active consultation from the students at Welsh's Skyridge Middle School's Leadership Class, and with participation from numerous students and community volunteers, the first Camtown Youth Festival took place on June 22, 2002.
The Camtown Youth Festival is an annual event held the first Saturday in June. The festival offers free admission, a variety of games (large inflatables, carnival, and interactive games), crafts activities, entertainment, food, art show, petting zoo, a kids flea market, and youth information tables. The event is well attended, bringing in over 2,500 participants each year. Additional information on the Camtown Youth Festival can be found in the City of Camas Parks and Recreation Spring and Summer newsletters, social media, press releases in the C-W Post Record, Columbian, and other SW Washington newspapers, school flyers, local magazines, libraries, a variety of local stores, or by phone at 360-834-5307.
Event Coordinator: Krista J. Bashaw, 360-834-5307, email kbashaw@cityofcamas.us
* excerpts taken from the Camas-Washougal Post Record, reporter Clarice Keating, 6/11/02.
back to top
What fun things can I do? See below for a sample list of festival activites from past Camtown events.
ACTIVITIES (games, crafts and more)
Bands
Basketball Hoop Shoot
Bean Bag Toss
Bounce Houses
Bubble Pool
Bungee Run
Cake Walk
Chalk Art
Chicken in a Bucket
Choirs
Clowns
Crafts
Dancers

Dunk Tank
Face Painting
Fencing Demo
Fishing Game
Frisbee Golf
Giant Slide
Gymnastics Demos
Hand-crafted Journals
Make-your-own Hula Hoops
Inflatable Obstacle Courses
Information Vendors
Jugglers
Martial Arts Demos

Mechanical Bull
Origami
Painted Piggy Banks
Petting Zoo
Puppets
Sand Art Bracelets
Scavenger Hunt
Seed Paper Flowers craft
Soccer Goal Kick
Spin Art
Tractor Hay Rides
Tie-dye Bandanas
Wooden Bird Houses
Camtown Art Show Rules - 2019
The Camtown-Forgey Art Show is open to Camas and Washougal residents 18 years and younger.
Students may enter more than one Arts Category, but may not enter more than 5 total art pieces. Each entry must be accompanied by an entry form. A student may develop artwork in or outside of school. Prizes will be awarded for first, second, and third places in each category.
Each individual entry must be the original work of one student only and must be the original art piece (not a copy). An adult may not alter the creative integrity of a student's work. If creating copyrighted art, credit must be given to the original artist.
Entries being judged will be judged on artistic merit, creativity, and grade level. It is highly recommended that one-dimensional art work be matted and/or framed. Construction paper matting is acceptable.
Entries must be turned in at Scout Hall, located at NE Everett and NE 15th Ave. in Crown Park, between the hours of 4:30p.m and 6:30p.m. on Wednesday, May 29th. This completed form must be turned in with the student's artwork. All artwork will be displayed on Saturday, June 1st, between the hours of 11:00a.m. and 4:00p.m., during the Camtown Youth Festival.
Students must pick up their artwork at Scout Hall between 4:30 p.m. & 6:30 p.m. on Monday, June 3rd.
Camas School District and the City of Camas or any of their officers, agents, employees or volunteers are not responsible for damaged, broken, stolen, lost, or unclaimed artwork.
Click on this link to register: Camtown Art Show Online Entry Form
If you are unable to register on-line, please contact us at 360-834-5307.
What type of entertainment can I expect during the festival?
The Camtown Youth Festival offers a wide variety of entertainment – juggling clowns, singers, dancers, magicians, school choirs and bands, unicyclists, martial arts, puppet shows, circus skill activities and reptile shows are just some of the entertainers who have performed during the last few years.
The entertainment is family and youth oriented and appropriate for ages 2 to 16. Performers include children (school choirs, dancers, etc.) to adults (clowns, musicians, etc.). Two "stages" run during the entire festival – one stage is for the younger crowd and includes entertainment suitable to ages 2 to 10; the second stage is designed for the "older" kids, and our local dance groups. In 2009, a youth "garage" bands were included with several local youth bands participating.
How can I become an entertainer at your festival?
The entertainers at the Camtown Youth Festival are either students, youth performers, or adults providing kid-favorite entertainment. Camas-based entertainer are given priority. If you are a kid-oriented entertainer and would like more information on how to get involved with the Camtown Youth Festival, please contact Krista Bashaw at Camas Parks and Recreation 360-834-5307.
back to top
Local non-profits and local food carts are given priority. Food vendors must comply with County Health Department regulations (for requirements, call 360-397-8428). If you are a food vendor and would like to be included on the Camtown Vendor List, please contact Krista Bashaw at Camas Parks and Recreation, 360-834-5307.
Approved Food Vendors: (to be posted in May)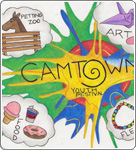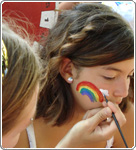 FUNDING
How is Camtown funded?
Funding for the Camtown Youth Festival comes from a variety of sources including the City of Camas Parks & Recreation budget, sponsorships, grants, and donations (monetary and in-kind).
Why should I donate?
Businesses, organizations, and individuals donate their money or goods for a variety of reasons. Our past donators have donated:
to help support a free community event
for a tax write-off
to give back to their own community
for name recognition for their business or organization
to show support for the youth of our community
If you have donated or wish to donate for other reasons, please let us know – we'd be glad to add your name and your reason to our on-going list!
Where is my donation going?
Donations go towards 100% of the biggest summer event for the youth of our community. Your donation pays for or provides for supplies, entertainment, advertising, and/or games.
How do I donate?
Monetary donations should be made by check to Camas Parks and Recreation, 616 NE 4th Avenue, Camas, WA 98607. The City of Camas is considered a 170(c)(1) entity as described in the IRS tax code. Our tax ID number is #91-6001233.
In-kind or material donations: A variety of donated items are used each year for the festival. Some items are donated for us to keep while others are provided at no charge during the festival. Past examples include: tents, supplies for craft activities, tshirt screens, entertainment, staging office space, lumber, gift certificates, city and county services, and more.
This is a community event and it takes a community to support it. We thank you for your contribution!
back to top
A variety of youth-related information vendors are present at the festival to offer information to our participants regarding a wide range of youth topics. Past vendors have included scouting groups, pre-schools, church VBS, dance studios, youth clubs, sports clubs, 4H, art studios, indoor play parks, and many more.
How can I become an information vendor at your festival?
Information vendors participating in our event offer kid-focused information to our public. No adult information is allowed. To be considered an Information Vendor at this festival, you can contact Krista Bashaw at Camas Parks and Recreation, 360-834-5307 or at kbashaw@cityofcamas.us
Once a vendor has been selected to participate, an Information Vendor packet will be mailed and will include a cover letter with general explanation of the event, a vendor contract, event flier, site map and directions to the event site.
Information vendors are provided a 10'x10' booth space at no charge. Vendors must provide all equipment and supplies for the space (i.e. table, chairs, canopy tent, etc.). Only youth-related information is to be shared with our attendees at this event. No sales are allowed.
back to top

Kids' Flea Market
The Camtown Kids' Flea Market was designed so youth could have a venue to learn a little bit about business – expense, profit, customer service, product display, time management, communication, and more. The market has blossomed to an activity that draws between 30 to 40 youth vendors each year.
The Flea Market allows kids to sell or trade their home-made arts and crafts or their good, but unwanted toys, games, or clothes. Pre-registration is required: A 10'x10' space is rented (see below for fees) and the vendors provide their own tables, chairs, canopy cover, display décor, supplies, and wares. Visitors can purchase items from our young vendors, or toys/crafts might also be traded at the flea market. Items must be in good condition and children must have adult supervision present.
There are some restrictions to what can be sold at the kids' flea market - we do not allow raffles, ticket sales, food sales, or commercial (new) wares. And, we do not allow any performances or open music at the booths (it detracts from the scheduled entertainment); listening to music via a headset is fine. No adult items are allowed and adults are not allowed to craft youth-related items. Keep it kid-focused, kid-made, and kid-friendly.
Kids' Flea Market Fees 2019

Early Bird Registration by May 24: $5.00
Late Registration after May 24: $10.00
On-site Registration - June 1: $20.00

Flea Market Items that have been approved in the past (just a sampling):
Used stuffed animals
Used youth games, toys and books
Home-made jewelry (i.e. friendship bracelets, beaded jewelry)
Home-made lip balm
Home-grown flower seedlings
Home-made bookmarks
Home-made slime
Duct tape wallets
Used trading cards
Used kid clothing (in good condition)
Flea Market Items that will not be approved:
Bottled water, canned soda, etc.
Commercial items (i.e. Dollar Store or new clothing items to resell)
Food (baked, cooked, canned, etc.)
Raffle tickets
Ticket sales
Pre-purchased flower starts to resell
How do I become a vendor for the Kids' Flea Market?
Read the above information. Call the Camtown Coordinator (number listed below) if you have any questions regarding the type of item to be sold.
Fill out a Camas Parks and Recreation registration form (click here for form) and return form with vendor fee as instructed. You may also register on-line at https://register.cityofcamas.us.
A Kids' Flea Market Contract will be emailed to you once the registration form is received. It must be filled out, signed, and returned by May 27, 2019. Attached with the email will be a cover letter explaining set-up details for the day of the festival, an event site map (to show where you check in and the general area for vendors), and driving directions to the park.
If you would like further information on the flea market or have questions regarding the flea market items you would like to sell, please contact Krista Bashaw, Special Events Coordinator, at 360-834-5307 or kbashaw@cityofcamas.us.
back to top
Get involved, have some fun, give back to your community – volunteer at the Camtown Youth Festival the second Saturday in June.
Who can volunteer?
Anyone can volunteer! Both long-term and short-term volunteers are used to plan and run the festival. Volunteers come from the schools, churches, social & service organizations, and the community.
Long Term volunteers: Festival planning begins in September with the Camtown Youth Festival Committee and the City of Camas Parks and Recreation. If you are interested in helping with the planning by either being a Chairperson on the Committee or assisting with the committee work, you can contact Krista at the contact information below for a volunteer application. Long-term volunteers must be approved through the application process and are subject to criminal checks and driving record checks.
Short-term volunteers: Many, many volunteers are needed the day of the festival. It takes about 120 volunteers to run the 5-hour event! Volunteer tasks include helping set-up before the event and tear-down after the event, running the games, helping kids with the crafts activities, monitoring the entertainment stages, working with the information tables, working at the kids' flea market, handing out flyers, being runners, and so much more! Any age can volunteer, but children under the age of 14 years must be accompanied by an adult.
Why should I volunteer?
Because we need you! But if that's not enough, here are more reasons why you should volunteer:
be a good role model to your child
meet community service hours for your school
gain experience interacting with the public
won't be bored at home
spend some fun time helping with your friends and family
How do I volunteer?
It's easy! Just contact Krista at the information listed above.
What do I do once I've been accepted as a Camtown Youth Festival volunteer?
Once you've been accepted as a Camtown volunteer, your volunteer tasks and "work" time will be arranged with the volunteer coordinator.
Long-term volunteers can expect to meet at least once a month during the planning process. Additional time will be needed depending upon your volunteer responsibilities.
Short-term volunteers - on the day of the festival, at your scheduled time, you will check-in at the "Volunteer Tent" where you will be given a volunteer ID badge and directed to your work area. If you have signed on to help at the festival, you'll be contacted with details as we get closer to the event.
back to top
Air Max 95 VaporMax