North Shore Sewer Transmission System Project
Current and Upcoming Work
Leadbetter Road – Leadbetter Road is currently under construction between 9th Street and the boat launch to install water and sewer improvements. Leadbetter Road will be CLOSED at this location to all traffic except for local residential access. Work is anticipated to continue in this location through February 2018. Construction of the Lacamas Lake Elementary School will also create traffic impacts at NE 232nd Avenue and NE 9th Street during this time. Please use alternate routes.
Lacamas Lake – Georgia-Pacific's Camas mill will begin the Lacamas Lake drawdown on Monday, September 18 for the annual inspection of the dam. The lake level will remain low until January 31, 2018 for sewer and water line installation along Leadbetter Road. 
Updated January 10, 2018
The North Shore Sewer Transmission System Project will construct 4.5 miles of new sewer pipeline to serve the area north of Lacamas Lake, which is expected to see future residential, commercial and light industrial development. The project will also build three new wastewater pump stations and a pedestrian/pipe bridge across the Lacamas Lake and Round Lake channel.
Funding for this $12 million project has been provided through Water and Sewer Revenue Bonds issued by the City. Construction work is being done by Rotschy Inc. of Vancouver, WA.
Notices and Press Releases
Construction Map
The construction map below will be updated regularly with anticipated construction activities and impacts. Click on lines and icons to learn about the project. You can turn map elements on and off using the "Layers" menu.
Note: Alignment and marker locations shown are for general reference only and may not match precisely with their actual location on aerial photographs.
Construction
Construction in many areas will require limiting traffic to one lane in each direction. Flaggers, traffic cones, and traffic signage will be used to direct vehicles and pedestrians during construction. Area residents, businesses and the travelling public can expect traffic delays along with some construction noise, vibration and dust in and around work areas.
No local business closures are expected during construction, and full pedestrian and vehicle access will be maintained during regular business hours.
Hours
Monday - Friday, 7 a.m. - 7 p.m.
Schedule
Construction will be done in stages, so not all areas will be under construction at the same time. Work will generally progress from south to north along Everett St. to Leadbetter Rd., where it will continue west along Leadbetter Rd., through Camp Currie and terminate near the intersection of Goodwin Rd and Ingle Rd. A new waterline will also be constructed as part of the project starting near Camas High School, running west on NE 43rd Ave, crossing Everett St. and then continuing along Leadbetter Rd. to the new Lacamas Lake Elementary School. Construction is expected to be complete by May 2018.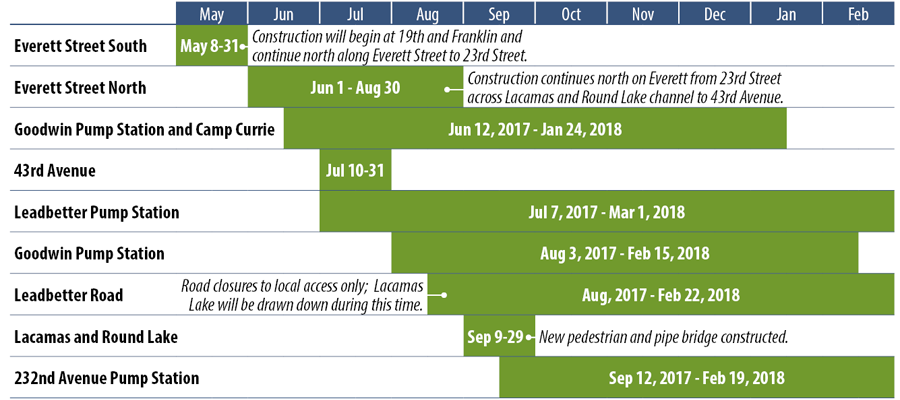 Activities
The project will primarily use an "open cut" or "open trench" construction technique to install the new pipeline. Trench boxes and sheeting will provide vertical shoring for trench walls to minimize the necessary width of the excavation and to protect the crews working in the trench. This approach also minimizes utility and traffic impacts. In most areas the pipeline trench will occur in the center of the roadway, requiring the closure of one lane of traffic. After construction, excavated trench areas will be backfilled and the pavement restored to allow normal vehicle movement.
---
Project Contacts
For questions, more information, or to join the interested parties list, you can contact a member of the project team at northshore@cityofcamas.us or by calling 360-817- 7377.
---